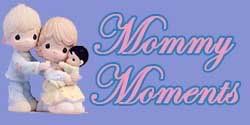 I don't know if I'm just too busy or what, but I had to check the calendar if it was really Friday already. : P It is and it's time for this week's Mommy Moments.
At his age, Joaqui likes to play pretend or I guess he likes to imitate people around him, what he usually see that we do and even sounds that he hears. He likes to pretend as a carpenter or a crane operator. But what he likes most is pretending to be a priest. Joaqui would always want to hold a cross wherever we go, including birthday parties, so we are always ready to make a cross for him out of drinking straws. He pretends to be a priest saying mass, giving bread during the Holy Communion and blessing with Holy Water. I don't know if he really wants to be a priest someday, but I do hope that he grows up to be "mabait" like a priest.
More "Let's Pretend" at
Mommy Moments
.